Pastor Daniel Samuel (Veeyapuram Georgekutty)
[toggle type="gray" title="" active="active"]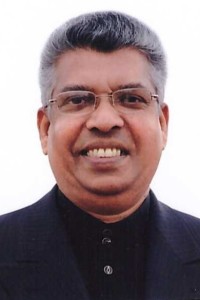 Pastor Daniel Samuel(Veeyapuram Georgekutty) was born and raised in Veeyapuram, Kerala, India. Immediately after his high school studies, Pastor Georgekutty joined Hebron Bible College, Kumbanad, Kerala where he got the training under prominent Bible scholars like Pastors K.E. Abraham, T.G. Oommen, C.K. Daniel, V.T. Joseph, T.S. Abraham, George Philip, George Varghese and Mathew Samuel. After graduation from HBC, he got the mission field training for 18 months in Chennithala, Kerala with one of the pastors of the Indian Pentecostal Church.
Currently He is ministering at I.P.C. Shalom Dallas, Garland as the Senior Pastor. Pastor Samuel held various responsible positions in different capacities. He was the secretary of I.P.C, U.A.E. Region. He was the coordinator of the Chicago Pentecostal Fellowship during his ministry in Chicago and also he was the Vice President of I.P.C Midwest Region.
Pastor Daniel Samuel is married to Sis. Saramma Samuel (Kunjumol). Children are Blessy (married to James), Praisy (married to Sumod) and Stanley, Grand kids are Joshua and Joanna. Pastor Samuel is a well-known Bible scholar, an anointed preacher, famous evangelist and well liked among the Malayalee Pentecostal community.
[/toggle]
[toggle type="gray" title="" active="active"]
---
God's provision in Distress Veeyapuram Georgekutty

[/toggle]
[toggle type="gray" title="" active="active"]
---
Qualities of Thessalonian church – Pastor Veeyapuram GeorgeKutty (Daniel Samuel)

[/toggle]